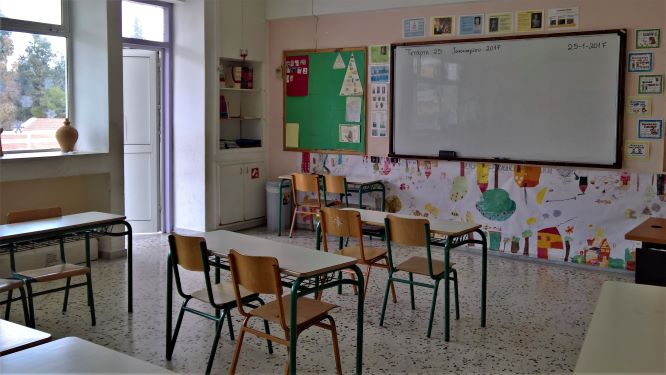 A set of 22 school buildings in Greece are utilized in GAIA.  One large Greek school participating in the project is Ellinogermaniki Agogi, which is a consortium partner in GAIA. Apart from EA, there are 21 pilot school buildings that are utilized in the context of the project; 8 of them are primary schools, another 7 are secondary schools and 6 are high schools. The schools are spread across 7 locations, covering a range of local climatic conditions. Moreover, several pilot buildings are situated in suburban and rural areas, 2 in small islands, while others are situated inside/close to city centers. Currently, electricity consumption meters are installed in all of these pilot buildings, along with sensors monitoring indoor and outdoor conditions as described above. The vast majority of the rooms monitored are used for teaching purposes and the rest for other activities like teacher/staff rooms, gym, etc. The year of construction of these buildings ranges from 1950 to 2000.
There are two additional schools in Athens that have participated to the activities of the project without having an IoT infrastructure installed at their buildings:
2nd Junior High School of Nea Ionia, Athens
3rd High School of Nea Filadelfia, Athens
The participating Greek public schools have some common characteristics regarding their daily routine, e.g., working hours, days off, classroom availability to external groups, lighting and heating. The majority of schools are open from Monday to Tuesday, from 8:00 to 14:00, however, this time varies from school to school with small deviations. On average, primary schools are open with students more or less 203 days per year. Almost all of the schools have the same days off, e.g., Christmas and Easter holidays (4 weeks totally), 2 National days (28/10, 25/3), etc., and almost 2 months for summer holidays. Moreover, in several cases the schools are available to other groups of people after classes, i.e., to parents, sports teams, etc.
In almost all of these schools, the consortium has installed an IoT infrastructure that monitors the overall consumption of the building, or specific sectors/floors of the school, as well as environmental conditions inside 5-6 classrooms. The sensors used inside classrooms typically monitor parameters related to comfort and quality of the indoor environment.