The big project of changing more than 2000 lighting points at Staffangymnasiet in Söderhamn continues. At this moment approximately 1/3 of the lights are changed.
The new lightings seems to work great! The ability to adjust the brightness is awesome!
During the change, the workplace is a bit messy, but that´s a small problem.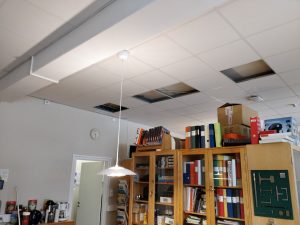 This week we also have a GAIA-challenge contest at the school. A couple of classes compete for a cake party.
At this moment EE18 is in the lead! The contest will end April 1.